Engineering, Manufacturing and Building Arts degrees
St. Petersburg College's Engineering, Manufacturing and Building Arts programs give you the cutting-edge skills and industry certifications you need for jobs in growing fields. SPC works closely with our community partners to give you opportunities to take your learning from the classroom to your job.
Giving you the right experience
Our hands-on engineering technology programs give you the skills to become a go-to problem solver and the precise technical know how needed in today's advanced manufacturing operations require.
Median Salary in Tampa Bay Area
Prepare for the growing manufacturing field
Florida ranks among the top ten states for manufacturing and is home to more than 18,200 manufacturing companies. SPC offers industry certifications and associate degree programs with embedded certificates that not only make you a specialist, but can get you into this field quickly.
SPC can take you anywhere

"The flexible program allowed me to test the waters of different career paths. At the end, I was drawn towards architecture classes which defined who I am now. SPC architecture classes taught me a new language which I use every day as an architect. I now look at our built environment in a whole new perspective."

Marcel Maslowski, an architect who credits SPC for helping him find his current career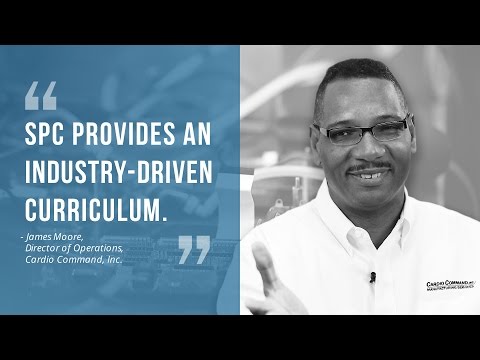 Play video for Fine tune your future in biomedical engineering technology
Fine tune your future in biomedical engineering technology
SPC developed its biomedical engineering technology program to help fill the need for technicians who repair the medical equipment that diagnose and take care of us. This training prepares you for what you'll see on the job, and the jobs are good.
Learn in state-of-the-art facilities
At SPC's Collaborative Center for Emerging Technologies, you'll get hands-on training in an open manufacturing learning facility. Here, you can take training in additive manufacturing, rapid prototyping, quality measurement, electronic instrumentation and reverse engineering. SPC's SolidWorks Design Center, the first of its kind in Florida, makes use of Computer Numerical Control (CNC) equipment, 3-D scanners and 3-D printers.
Engineering Blog
Attend St. Petersburg College's Engineering Career Exploration Workshop on Feb. 20 for those looking to major in the field and to learn more about careers for engineering majors. During the first part of our workshop, we will be joined by local engineers John Kennedy, Sr. Principal Systems Engineer at Raytheon, and Ann Garcia, Sr. Principal Software Engineer at General Electric Aviation.

St. Petersburg College's Engineering, Manufacturing, and Building Arts program is participating in the National Engineers Week by offering several events open to both the public and current SPC students.

Explore the world of medical technology and learn how to increase your technical skills as a Biomedical Engineering Technician at the Feb. 19 Biomedical Engineering Technology Open House.

The Workforce Institute at St. Petersburg College is expanding its Unmanned Aerial Systems (UAS) or drone training program with drone certification training at the college's Tarpon Springs Campus in northern Pinellas County starting in mid-January.