Health Science Degrees
If you've ever received health care for yourself or a pet in Pinellas County, chances are you were cared for by a graduate of St. Petersburg College. SPC has been training students for health care jobs in Pinellas County for decades.
Training you for health care jobs in demand
Our specialized health care programs train you in some of the fastest growing careers in Florida. Programs include dental hygiene, emergency medical services, funeral services and arts, health information technology, health sciences, health services administration, nursing, orthotics and prosthetics technology, physical therapist assistant, radiography, respiratory care and veterinary technology.
Median Salary in Tampa Bay Area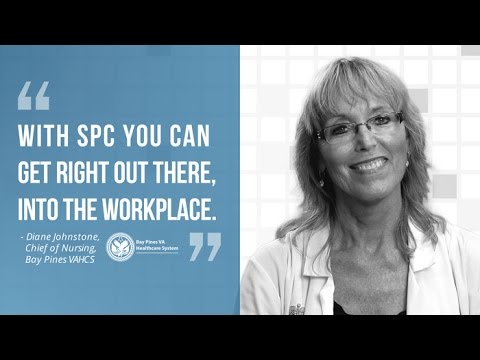 Play video for Prepared for the real world
Prepared for the real world
"We find that SPC nursing graduates are very well prepared and can get right out there into the workforce. The clinical nursing rotations that students receive at SPC are excellent, so by the time they're ready to graduate they've received a lot of great experience."
Accredited Programs
At St. Petersburg College, you can trust the health science education you receive. Our health care programs are programmatically accredited by national accrediting agencies and produce top performers in their fields. See our accreditation agencies.
Health science scholarships
SPC offers scholarships to study health science programs at SPC, including nearly 50 scholarships for nursing students.
Learn in top-notch facilities
At SPC, we offer first-rate facilities that prepare you for what you'll see on the job. We offer a patient-care clinic for dental hygiene, an $11-million building for the College of Orthotics and Prosthetics, a multi-million dollar Simulation Center for Excellence in Nursing and the 32,000-square-foot Veterinary Technology Center located next to Pinellas County Animal Services.
Meet Others Like You
SPC gave me my foundation, and in what I do, foundation is the key.

Michael
McCauley

Orthotic and Prosthetic Clinic Manager

The professors at SPC are amazing. They challenge you every single day.

SPC prepared me to get the job I love today. I would definitely recommend St. Petersburg College.
Health Blog
Daniel Hale Williams, Frederick Douglass Patterson, Dorothy Lavinia Brown, and Ernest Everett Just are among those African American History Month heroes honored at a Tarpon Springs Campus display celebrating African American history in February.

Join us at St. Petersburg College's health science careers exploration workshop on Feb. 15 and learn more about high-wage careers that help others.

St. Petersburg College of Nursing faculty, students, and Student Nurses Association officers participated in Making Strides Against Breast Cancer Walk and 5K on Oct. 14 in Vinoy Park, St. Petersburg.

St. Petersburg College Nursing Faculty Member Jeanne Siegel was recently honored by her alma mater for her work to prevent child deaths in hot cars.

The Florida Association of Emergency Medical Services Educators has named SPC instructor Ted Rogers EMT Instructor of the Year. He also received the award in 2003.