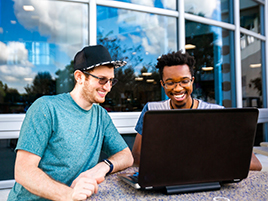 Online Learning: The Ultimate Flexibility
Our online programs are built for a modern lifestyle. We offer more than 60 programs completely online at St. Petersburg College, which is a top provider of online education in the Florida College System.
Our online courses make it possible.

"The opportunity to continue my education and further my career would not have been possible without online courses at SPC."

Andrea Borekaa
There's an SPC Campus for You
At SPC, you can take classes at our campuses, online or combine both to earn your degree. We offer 11 campuses and centers across Pinellas County and specialty programs at the Allstate Center, Health Education Center and Veterinary Technology Center.
Earn Your Degree on the Weekends
Through SPC's Weekend College, you can earn your Associate in Arts degree, Associate in Science in Business Administration degree or Human Services Addiction Studies Certificate in less than two years by taking classes full time on the weekends. We offer classes on certain campuses, online, or a combination of all three. Plus, our library and tutoring services are available to you on Saturdays.
"I get the chance to take courses I can't get during work hours," said Eric Christensen, 27, who works at the Pasco County Environmental Lab during the week. "It's better for me to take the class in person. You can actually see the professor and ask questions."