Focused on your success
From orientation to graduation, St. Petersburg College puts you first. Whether you just finished high school or are coming to college after being in the workforce, SPC faculty and staff are here to help you succeed as a first-time-in-college student.
We offer proven resources like free tutoring and career counseling to help you every step of the way. At SPC, you'll also find online support, campus learning centers, small group workshops, a personalized learning plan, small class sizes and caring, dedicated faculty that want to see you finish strong.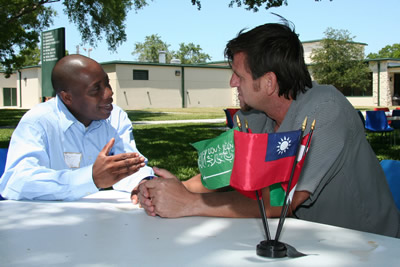 Become a Titan Today
At St. Petersburg College, you'll join a dynamic student body that comes from all walks of life. By becoming an SPC Titan, you make a commitment to yourself to be part of a great place to earn an education.
Each SPC campus hosts a variety of events to connect you with your academic community and other students. We offer more than 20 clubs and organizations throughout SPC's campuses and centers and untold chances to learn beyond the classroom, where you can connect with like-minded peers to inspire the world.
New Student Orientation
Get connected with SPC at our orientation, where you'll find the tools you need to be successful in and out of your classes.
As a first-time-in-college student, you'll take our Smart Start program, where you'll explore career and degree options and pinpoint the classes you'll need for your degree. We'll also show you our student portal and online learning management system, give you a tour of our free tutoring centers and let you know who to call for questions and help.
Smart Restart is designed for students returning from suspension or dismissal and meets for an hour a week for four weeks. Topics covered include personal learning styles, time management, career goals and schedule planning.
College 101
Listen to what students looking for tips on how to find success in college said about their experience at SPC's, "Off On the Right Foot" event.

Guaranteed Admission Transfer Plans like USF's FUSE and Florida A&M University's Ignite can make your transition from a two-year college to a four-year institution go much more smoothly.

The cost of college can seem daunting, but there are so many ways to cut corners.

Here are ten things you can consider when choosing an online college.