Become an R.N. with our Nursing A.S. Degree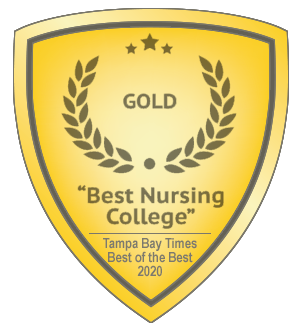 Getting your nursing degree from SPC's Evelyn W. Jerger Nursing Program means you've made a solid career choice. With 2.7 million jobs, registered nursing makes up the largest health care field in the United States. With many nurses retiring and an aging population, Florida could face a critical nursing shortage in the coming years. We reserve six seats for paramedics to enter the program.
Licensure
Graduates are prepared to take the National Licensing Exam for Registered Nursing (NCLEX-RN).
This academic program prepares you for the following careers. All job data is provided by the U.S. Department of Labor.
Registered Nurses
Tampa-St. Petersburg-Clearwater, FL Metro Area Average
Florida Average
Projected employment for Florida
Projected Job Openings
14310
Features of SPC's Nursing A.S. degree
Nursing (R.N.) Associate in Science
print
NURSE-AS
Effective Beginning Catalog Term: Summer 2019 (560)
The requirements shown below are valid beginning Summer 2019 (560), and may not reflect degree requirements for current students. Current students should visit My SPC and view My Learning Plan to see specific degree requirements for their effective term.
Program Leadership Information
Louisana Louis, DNP, RN
Dean, College of Nursing

Health Education Center
Advising
hec_advising@spcollege.edu


Program Summary
Fully transferable to Bachelor's Degree at SPC or to any state university in Florida.

The Academic Pathway is a tool for students that lists the following items:
o the recommended order in which to take the program courses
o suggested course when more than one option exists
o which semester each course is typically offered
o if the course has a prerequisite
o courses that may lead to a certificate (if offered in the program)

If you are starting the program this term, click here to access the recommended Academic Pathway.

If you have already started the program, click here for the archived Academic Pathways.

Please verify the Academic Pathway lists your correct starting semester.


Florida CIP Code
1351380100:

Federal CIP Code
51.3801: Registered Nursing/Registered Nurse.


---
Admission Rules
Please review the Nursing A.S. Admission Guide. The Admission Guide will outline the admission criteria specific to the Nursing A.S. program as well as explain the timetable for evaluation and further admission correspondence.

If you are an LPN interested in the LPN to RN transitional program, check here: Nursing A.S.: LPN to RN transitional.

If you are a Paramedic interested in the Paramedic to RN Transitional, check here Nursing A.S.: Paramedic to RN transitional.

Please review this information carefully to ensure you submit a complete application at the appropriate time. Only students who satisfy all the application requirements and submit a complete application in accordance with the information detailed in the Admission Guide will be considered for admission.

Before entering the first term of the Nursing "program courses" students must complete a minimum of 11 credits from the general education and/or support courses listed below. Prior to admission, students must complete:
BSC 2085
BSC 2085L
BSC 2086
BSC 2086L
PSY 1012 (or PSY 1020H)
Computer and Information Literacy Competency Requirement

General education and support courses do not have to be completed in the order listed. Candidates will also complete the Health Programs Application form. Please see a counselor or advisor. Access to a computer is helpful!

A health program advising request can be made here: https://web.spcollege.edu/survey/16998/
Graduation Rules
Minimum grade of "C" required in all courses.

Any student who makes a grade of less than "C" in a course in the nursing program that is a prerequisite to a nursing course will be ineligible to continue in the nursing program. Likewise, the clinical component of any nursing rotation must be satisfactorily passed. An overall 2.0 average is required to enroll in sophomore nursing courses. Credit must be earned in or prior to the prescribed sequence.
Complete at least one 3-credit course intended to enhance the student's world view in light of an increasingly globalized economy. Minimum grade of "C" required. In some cases, this course may also be used to satisfy another General Education Requirement.
Completion of this requirement satisfies the General Education Mathematics requirement for this AS degree.
Completion of this requirement satisfies the General Education Ethics requirement for this AS degree. Students are strongly advised to select the Healthcare Ethics topic when they register for PHI 1600.
Completion of this requirement satisfies the General Education Social/Behavioral Science requirement for this AS degree.
Competency may be demonstrated by completing the Computer Information and Literacy Exam (CGS 1070T) OR by successful completion of one of the approved Computer/Information Literacy Competency courses. No minimum credits required. Completion of this requirement satisfies the General Education Computer Competency requirement for this AS degree.
Total Credits 72
Continue your education at SPC
SPC's associate degrees in nursing transfer to our Bachelor of Science in Nursing completion degree for RNs. These include:
Nursing Associate in Science Degree
To be admitted to our BSN program, you need an active, unrestricted, unencumbered RN license; an A.S. degree in Nursing from a regionally accredited institution; and to have completed certain prerequisite courses.
Licensing
Our Nursing Associate of Science Degree prepares you the National Licensing Exam for Registered Nursing (NCLEX-RN).
HEALTH CONTINUING EDUCATION
We also offer health continuing education through the Workforce Institute.